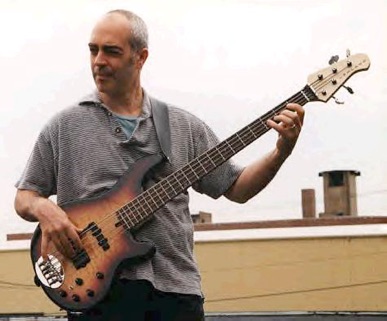 A mainstay of the Chicago music scene for more than forty years, Eric Hochberg has lent his bass work, both upright and electric, and an occasional trumpet, keyboard and vocal lick to a variety of projects across the realms of jazz, blues, folk, and much more.

He has performed and/or recorded with the likes of -

Vocalists

Terry Callier, Kurt Elling, Barbra Streisand, Cassandra Wilson, Mark Murphy, Bob Dorough, Joanie Pallato, Patricia Barber, Tierny Sutton,  Jackie Allen, Janice Siegal, Sheila Jordan, Bobby McFerrin, Bonnie Koloc, Grazyna Augucik, Bernard Fowler, Diane Reeves, Dee Alexander, Rebecca Parris, Leni Andrade, Jay Clayton, Janice Borla, Ben Sidran, Claudia Schmidt

Saxophonists

Pharaoh Sanders, Von Freeman, Chico Freeman, Cannonball Adderly, Charles McPherson, Joshua Redman, Jerry Bergonzi, Mark Colby, Joe Daley, Rich Fudoli, Paul McCandless, Donny McCaslin, Bob Mintzer, Dave Liebman, Sam Rivers, Eric Marienthal, Rick Margitza, Ari Brown, Bob Sheppard, Sonny Fortune, Rich Corpolongo, Roger Rosenberg, Lew Tabackin, Earnest Dawkins, Eric Schneider, Geof Bradfield, Herb Geller, Eric Alexander, Frank Catalano, Tim Ries

Pianists

Lyle Mays, Steve Kuhn,  Howard Levy, Laurence Hobgood, Steve Million, Bill Carrothers, Alan Pasqua, Larry Novak, Henry Butler, Anthony Molinaro, Willie Pickens, John Young, Jon Weber, Michael Weiss, Mike Garson, Jeremy Kahn, Erma Thompson, Roberto Magris

Drummers

Paul Wertico, Peter Erskine, Jack DeJohnette, Joey Baron, Gary Novak, Rusty Jones, Mark Walker, Brian Blade, Don Moye, Ed Thigpen, Alejo Poveda, Ernie Adams, Dana Hall, Makaya McCraven, Michael Raynor, George Brown, Stan Gage, George Fludas, Bob Rummage, Robert Shy, Mo Jennings, John Von Olen

Guitarists

Pat Metheny, Bobby Broom,  Larry Coryell, John Moulder, John McLean, Andy Brown,

Fareed Haque, Emily Remler, Ernie Denov

Trumpeters

Jon Faddis, Claudio Roditi, Bobby Shew, Tom Harrell, Randy Brecker, Don Ellis, Bobby Lewis, Marquis Hill, Brian Lynch, Lester Bowie, Russ Johnson, Victor Garcia, Tito Carillo, Art Hoyle, Orbert Davis, Art Davis, Rob Parton, Mark Ohlsen

Trombonists

David Baker, Tom Garling, Russ Phillips, Andy Baker, Tim Coffman, Scott Reeves

Misc. Instruments

Howard Levy harmonica, Johnny Frigo violin, Ken Nordine word jazz, Ryan Shultz bass trumpet, Scott Reeves alto flugelhorn, Michal Urbaniak violin, Jim Walker flute, Paul Berliner mbira, Dave Samuels vibes, Dave Valentin flute, Joe Rendon perc, Ruben Alvarez perc, Geraldo De Oliviera perc

Ensembles

Eric Hochberg Trio, Paul Wertico Trio, Trio New, Kurt Elling Quartet, Howard Levy Quartet, Von Freeman Quartet, Rich Corpolongo Quartet, Joe Daley Quartet, Chevere de Chicago, Sonia Dada, The Boston Brass, Bill Russo's Chicago Jazz Ensemble with Bill Holman, The Chicago Jazz Orchestra, Rob Parton Orchestra, The Miami Saxophone Quartet, Jim Walker & Free Flight, The Grant Park Symphony with Luciana Souza and Patti Austin, The Joffrey Ballet, Luna Negra Dance Company, The Chicago Human Rhythm Project (music director), and Chicago Tap Theater.

Eric has the distinction of having performed in the bands of three of the four members of the Pat Metheny Group - a tour in 1977 with Pat, a long association with drummer Paul Wertico and a Latin American tour with Lyle Mays in 1992.

He has toured nationally/internationally with the Lyle Mays Quartet, the Terry Callier Group, the Paul Wertico Trio, the Kurt Elling Quartet, Ken Nordine's Word Jazz, the Howard Levy Quartet and the Grazyna Auguscik Quintet.

He has performed at the Jazz Festivals of Chicago (21 times), Montreal, San Francisco, Detroit,  Montreux, UK/London, Free Jazz/Rio & Sao Paolo Brazil, Leverkeusen/Germany, World Music Festival/Barcelona, Rome Jazz, Rotterdam Jazz, Karlsruhe Festival/GR, Frappe Festival/FR, Nice Jazz/FR, Gigon Festival/SP, Cully Jazz/Swiss, Blues and Roots Fest/Australia, The International Society of Jazz Educators/Atlanta, The Chicago Flute Club, The Percussive Arts Society/Columbus OH, Rockford Jazz/IL, Hyde Park Jazz Festival/Chicago, South Shore Jazz/Chicago, Elkhart Jazz/IN, Columbus Jazz Festival/OH, Milwaukee Summerfest, Louisville Festival of the Arts, Blue Note Tokyo, Yokohama and Milan, and concerts and clubs worldwide.  He has also performed on the Oprah Winfrey Show three times with Barbra Streisand, Josh Groban and Johnny Mathis, and with Gloria Estefan.

The Eric Hochberg Trio was the house band at Catch 35 Chicago 2011- the pandemic, playing Tuesday-Saturday, 6-9PM.

He has  also been heard in clubs and concert venues around the Chicago area including The Green Mill, Andy's Jazz Club, Pops for Champagne, The Jazz Showcase, Fitzgerald's, Katarina's, Pete Miller's, The Checkerboard Lounge, Room 43, Mayne Stage, Morseland, Pick Staiger Hall, Pritzker Pavillion and many others.

The Eric Hochberg Orchestra has performed for countless events of all kinds over the past twenty-five years and Eric Hochberg Music contracts the finest musicians in the Chicago area for clients worldwide.  The EHO was the band for the City of Chicago's 5000 guest "Chicago Welcomes the World" Millennium Celebration.

Eric produced Jackie Allen's 2006 debut Blue Note Records release, Tangled and her 2003 release The Men in My Life.  Eric has also worked extensively with legendary singer-songwriter Terry Callier, producing his 2005 album, Lookin' Out, on Emarcy Records, the critically acclaimed TC in DC on Premonition, tracks on Verve Forecast's Timepeace, Novo Record's Chicago Rapid Transit and Acid Jazz Totally Re-wired Vol. 8.   He co-produced World Thing and Future Tense by Hochberg, Eisen & Potter, Reflections, Yesterday's Gardenias and All or Nothing at All by saxophonist Mark Colby, 3 by Hochberg, Williams and Widlowski, and New Bolero by Trio New, Kurt Elling's original band.

As a composer, Eric has made contributions to Kurt Elling's Close Your Eyes and The Messenger on Blue Note Records, Hochberg and Potter's World Thing on HoPo Records, Trio New New Bolero, Paul Wertico's Yin and the Yout and The Paul Wertico Trio's Live in Warsaw and Don't Be Scared Anymore.   Five compositions are featured on Future Tense, the latest recording by Eric, Steve Eisen and Andrew Scott Potter. Two of his compositions are featured on the recently released album, The Rob Parton Quartet. New tunes are featured on the album 3, by Williams, Widlowski & Hochberg.  He also co-composed with Jason Heath the theme song for Contrabass Conversations, the weekly double bass interview show.

He can be heard on the recordings of:

Josie Falbo • You Must Believe in Spring

Roberto Magris • Suite

Williams, Hochberg, Widlowski • 3

Hochberg, Eisen & Potter • Future Tense, World Thing

Chevere de Chicago • Secret Dream

Kurt Elling • Close Your Eyes, The Messenger

Paul Wertico Trio • Live in Warsaw, Don't Be Scared Anymore, Stereonucleosis

John Moulder • Through the Open Door, Trinity

Grazyna Auguscik • River

Terry Callier • Lookin' Out, TimePeace, Lifetime, TC in DC

Rich Corpolongo • Just Found Joy, Smiles

Howard Levy • Harmonica Jazz

Mark Colby • All or Nothing at All, Yesterday's Gardenias, Reflections, Tenor Reference, Speaking of Stan.

Eric has also played on over 1000 jingle, television and movie soundtrack recording sessions and 100 album projects.

He maintains an active teaching studio where students of all levels learn the jazz language and apply it to their music.  He also teaches at the Merit School of Music.

Eric has served on various Craft Committees for the National Academy of Recording Arts and Sciences (GRAMMY AWARDS) 2006-2008.

Eric endorses Lakland Basses and highly recommends Pirastro, Velvet, and Thomastik-Infield double bass strings.